certificate
DNV
validity
5 years
costs
€ 1.258,70

STAP
No
duration
4 days
language
Dutch
location
Aalborg 7
2993 LP Barendrecht
starting dates
Scaffolding erector - Basic
The training course Mechanic Scaffolding prepares you for the exam for Mechanic Scaffolding with the help of many practical assignments and visual material.

Each training day consists of a varied programme with short information sessions by the trainer and various group assignments. In total, the training consists of 4 training days. For 4 weeks, training takes place every Wednesday. The assignments are formulated in such a way that they are as much in line with your own professional practice as possible and that they especially invite you to look for the necessary theory. In addition, you are activated as much as possible to learn by doing.
Frequently asked questions (FAQs)
You bring to a training Mechanic Scaffolding: a valid identification (passport, identity card or driving license) & personal protective equipment.

Upon successful completion of the exam, you will receive the DNV Certificate of Competence in Scaffolding Construction. This is a personal certification under ISO 17024. This certificate fulfils the competence requirement of the Scaffolding Directive.

The training lasts 4 days. These days are not connected. Training takes place every Wednesday for 4 weeks.
To book you need:
Contact details
Name and date of birth of students
Can't find the right data? Please contact us.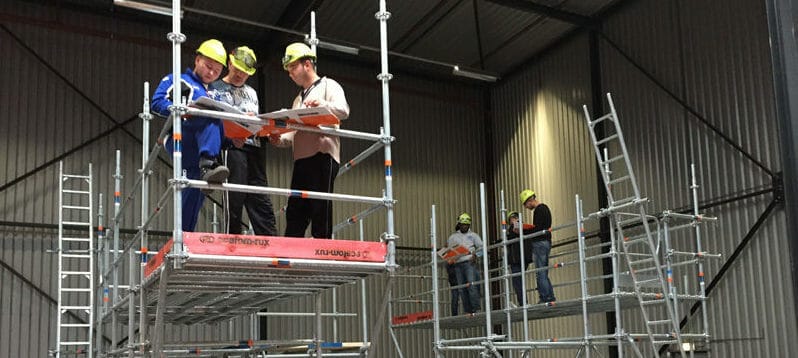 Subscribe to the newsletter