certificate
DNV
validity
5 years
costs
€ 1.467,50

STAP
No
learning form
Classroom
duration
5 days
language
Dutch
location
Aalborg 7
2993 LP Barendrecht
starting dates
1st Mechanic Scaffolding Construction - Basic
Are you working on high scaffolding during your job? If you are a First Mechanic in scaffolding construction, you are most likely responsible for organizing the work involved in assembling scaffolding, dismantling scaffolding and checking the work of your colleagues. During your work, you obviously do not want to fall down and the scaffolding must be securely assembled. To reduce the risks of falls and industrial accidents it is very important that you have sufficient safety knowledge in the field of scaffolding construction. So are you the first Scaffolding Mechanic and do you want to prevent accidents? Then register for the training course 1st Mechanic Scaffolding Construction. We will prepare you optimally for your First Mechanic Scaffold Construction exam. With the help of many practical assignments and visual material we will show you potential hazards and how to prevent them. Reduce the risks of an accident and book your scaffolding construction mechanic course, because with the 1st Scaffolding Mechanic certificate you can show that you are competent and able to bear this responsibility.

In order to provide you with as much useful safety knowledge as possible, we at DELTA Safety Training believe it is important that the training course is perfectly in line with the scenarios which could occur in everyday practice when you are working as a 1st Scaffolding Mechanic. The exercises you will do during the training will therefore match your own professional practice as closely as possible. This allows you to be well prepared for work as a First Mechanic Scaffolding. The exercises will invite you to look for the theory you need to be able to perform the exercises correctly. Each course day consists of a varied program with short rounds of information by the instructor and various group assignments. Our instructors will try to activate you as much as possible to learn by doing.
Frequently asked questions (FAQs)
To book you need:
Contact details
Name and date of birth of students
Can't find the right data? Please contact us.
This training can also be booked in company, please ask us for the possibilities.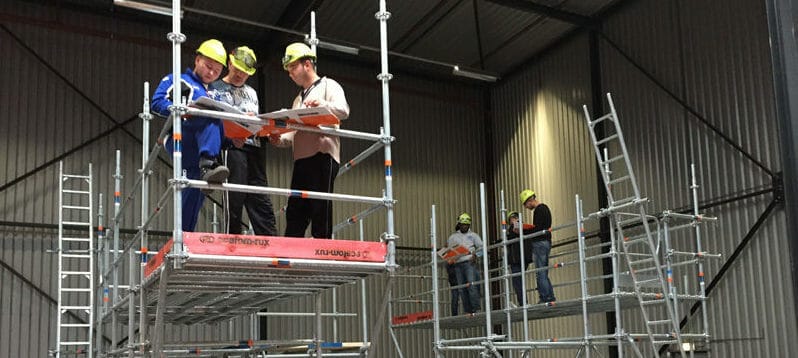 Subscribe to the newsletter